Walkthrough of the Creation an Endpoint Group and Assigning it to an Endpoint
Endpoint Groups
provide logical structure and control of the endpoint. Since Endpoint Groups may be assigned to multiple endpoints, this allows for multiple endpoints, and their associated alerts, to be managed as one.
The following steps walk through the process of creating an Endpoint Group.
Navigate to the System Configuration | Endpoint Groups page then select Add New Group.



On the New Group pop-up, you are presented with four (4) fields.

a. Name/Description – consists of the name and description of the new endpoint group.
b. Endpoint Count – the number of endpoints that the group has been assigned to. This number is automatically updated when an endpoint is added to the group.
c. Role with Access – Select this only if you want all roles within the group to be able to view and make changes to their permissions on the endpoint.
d. Column Headings
i. Role - Refers to the name given to a 'User Role' in the endpoint group. User Roles are created with a set of permissions, any user added to that User Role inherits those permissions.
ii. Allow Access – Denotes access to view and modify their assigned Endpoint and Alerts settings. If checkbox is white, access has been allowed.
iii. Show Permissions – Allows the endpoint group access for the select User Role to be defined at detail.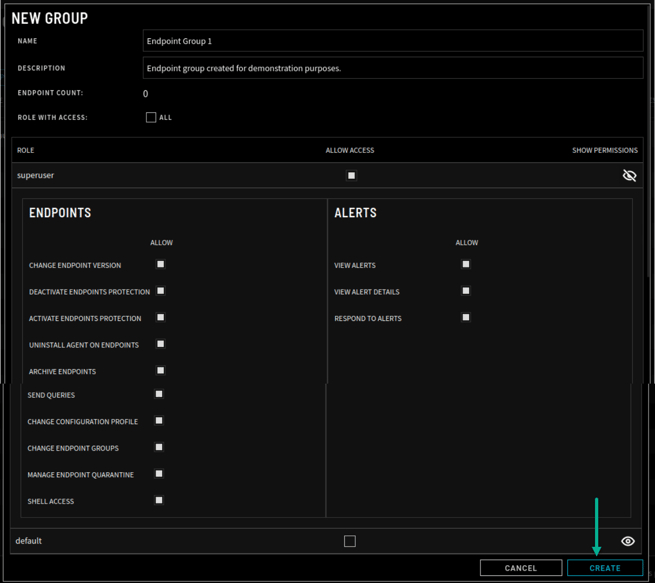 Click Create and you have successfully created an Endpoint Group.
---
Assign Endpoint Group to Endpoint Systems
Once an Endpoint Group is created, it must be applied to at least one endpoint. To do so, navigate to the Endpoints page. Once there, select the endpoint(s) that the Endpoint Group will be applied to. Click the Actions drop-down menu and select Add to Groups.



Choose one or more groups to add to the selected endpoints. Then click the Commit Changes button.



Back on the Endpoints home page you can see that your changes are in place.

Was this article helpful?
Yes No